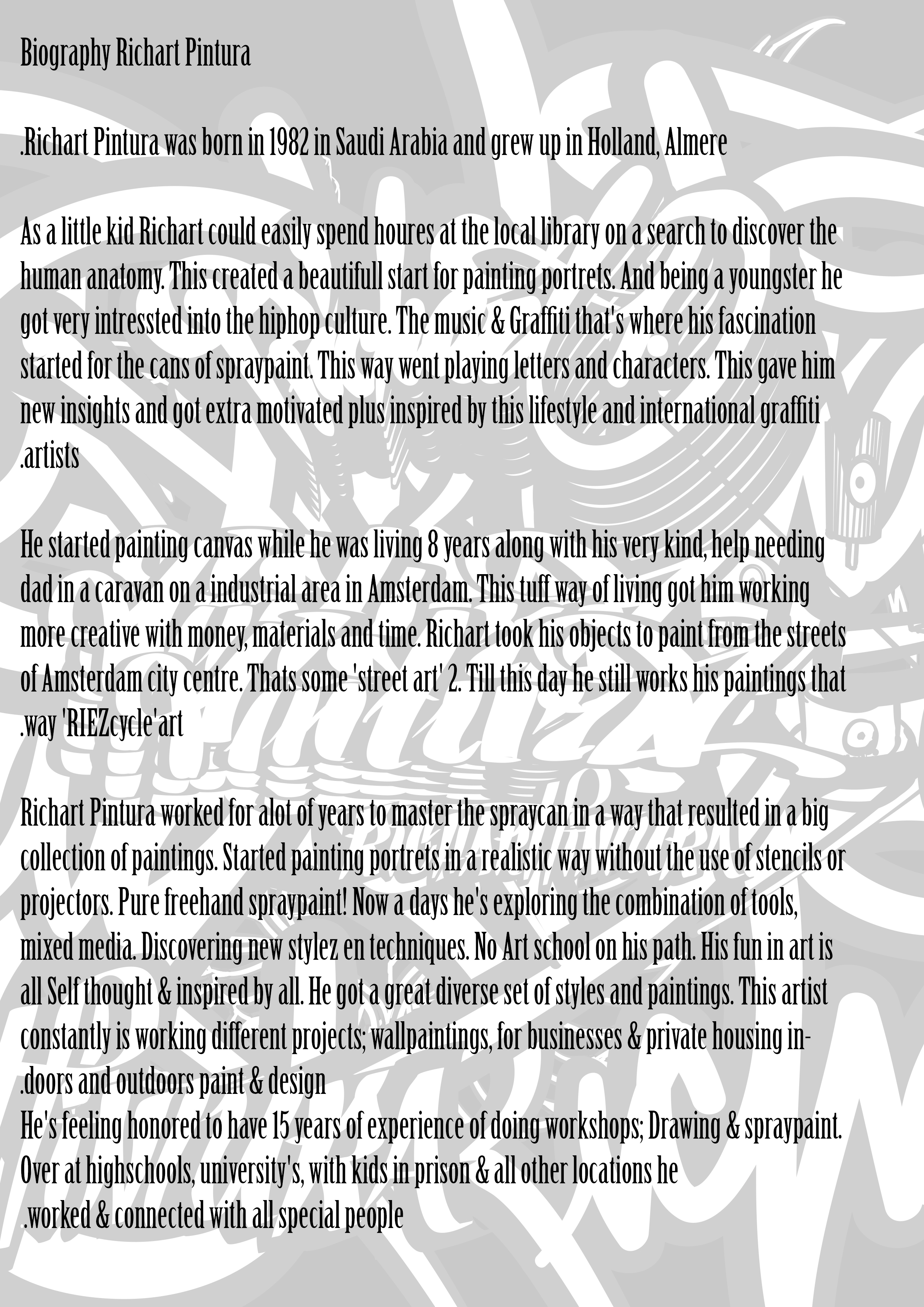 Lees hieronder het interview van Konstantin Kirilov over het bijzondere verhaal van Richart Pintura
⇓  ⇓  ⇓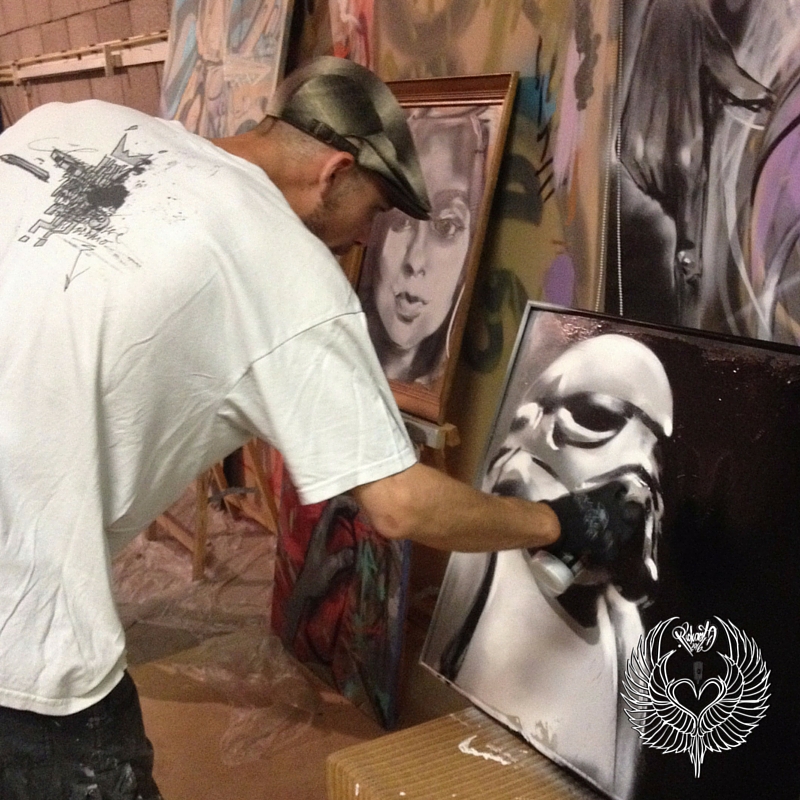 Both Sides of the Wall
APRIL 9, 2015 / Richart pintura  by KONSTANTIN KIRILOV
AMSTERDAM — It is an especially warm April evening in the Dutch capital, and Richart Pintura has just had yet another busy day. The 32 year-old's process never quite stops, though. If you manage to catch up with him, probably between organizing an exhibition, moving a stack of canvases and meeting a potential client, it is a safe bet he will have a graphic pen in hand. This kind of work ethic is almost a requirement in the city. Trying to make a living through your own art feels like, in his own words, "fighting to keep it fun".
Born in Saudi Arabia, Richart spent two years in Belgium before moving to the Netherlands and finally settling in Almere, a planned city situated 30 kms east of Amsterdam. When asked about the roots of his interest in art, he cites his grandfather, who was an accomplished painter. "I was 5 years old, drawing cars, and he would come, and with a few lines he would give the car this 3D effect. He did it in a fun way, with a smile and a laugh, some good advice." Richart confesses this is all the motivation he needed. From that moment on he was constantly ahead of his classmates in school, worked on his art in a "playful way", and never looked back.
Like many urban stories, this one developed in earnest during high-school. Sixteen years old and fooling around with tagging, Richart suddenly found himself together with a group of older 'writers' from his neighborhood. The experience was inspiring and immensely helped with his sketching skills, but it did not come for granted. "It started with carrying their Latex next to the wall. […] That was the start of graffiti for me. I will never forget it and let it go… I couldn't, really." It was also his introduction to spray paint, a new tool in his arsenal, which up until then had consisted mostly of pencils and pens. Richart describes it as something which is "parallel" with the meaning of graffiti. "You can throw it over anything and it hits it. And that's what I wanted to work with, really."
"Be conscious of your words, your actions."
His approach to the craft was a disciplined one – no tricks, no shortcuts like using stencils or tape, just a continuous improvement of his free hand technique. Later he had some fun with tape anyway, but by then his drawing skills had already grown beyond the basics and a signature style was emerging. While praising graffiti, Richart seems keen to acknowledge the importance of other forms of public art deemed 'illegal'. "With stencils you can do political stuff, with many layers […] it's just a different discipline." Graffiti was always his big love, however. "With spray it's something else altogether […] I can immediately feel it when someone is using spray," he admits.
After all the hard work had been put in, Richart eventually reached a point where his characters became recognizable and people started offering him assignments for various visual projects. He adds that he personally never cared who saw these, but people did anyway, and they realized what is possible with a can of spray paint. Along a string of full-time jobs, he says he discovered that the 9-to-5 life is not the proper way to function. And so, for the last few years every day has been a careful balance between doing private jobs and continuing to draw out in the streets and purely for himself.
''I couldn't do a 9-to-5 job, I was illegal in my own country."
When asked about his inspiration to continue working on his art despite all the setbacks he faced, Richart does not hesitate with the answer. "Definitely my dad," he says. "I had to take care of him for a long time, living in this caravan for years, bounded to it 24/7. He made me determined, strong, he gave me the knowledge, the things I needed to rock on." The need to always be around influenced Richart's choice of materials as well, as he started picking up stuff from the street so he could paint on it. Due to legal troubles he did not have a Dutch ID card, and the caravan itself was on unauthorized land. "The decision to continue with painting was made for me. I couldn't do a 9-to-5 job, I was illegal in my own country." Seeing the amount of garbage people produced made him realize the excess most Western Europeans enjoy, and as a consequence he began "cutting into that matter", reusing objects to make some money. "Recycling for me is a life principle as well," he adds. "Be conscious of your words, your actions."
"The politics of 'friends' here is a big thing, its about egos, and I experienced it a lot,"
Not everyone in Amsterdam seems to share his open-minded attitude, however. The graffiti scene can be notoriously tough to break into, and one where turf wars, perceived elitism and name-calling are common. "The politics of 'friends' here is a big thing, its about egos, and I experienced it a lot," Richart says. "For me, I took the best out of it and it inspired me. But I can imagine people are frustrated when they get excluded." His advice to young writers is to educate themselves and avoid getting distracted or frustrated. All the elements of hip-hop culture have been rooted in struggle, he maintains, and it should stay that way. "This is not anything highborn, and it was never meant to be."
More information on Richart's art, including current and past projects, can be found via his official blog at richartpintura.com.